CHILD HYPNOTHERAPY
Karin Laing is a qualified and certified Transpersonal Hypnotherapist, and accredited by the International Association of Counsellors and Therapists (IACT) (USA).
Karin is a certified Master Hypnotherapist trainer with International Association of Counsellors and Therapists (IACT) (USA) and enjoys sharing her knowledge and teaching the next generation of Hypnotherapists.

She is also a fully trained Paediatric Hypnotherapist, certified and accredited by The International Society of Paediatric Hypnotherapists (TISPH) (UK) using the latest and proven techniques to help children move forward.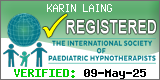 Karin specializes is working with children and teenagers from the age of 6 to 18 on issues such as anxiety, confidence, unwanted habits, shyness, fears and phobias and help transforming children's lives through visualization, hypnosis and other imaginative methods.
She applies her vast experience and training in hypnotherapy to help resolve many issues children and teenagers face. Each child is treated individually. In her custom designed programs, she utilizes hypnotherapy, sound healing as well as art therapy to facilitate each child's needs. All in a way that is appropriate for the age of the child or teenager. These are safe, effective techniques that most children find enjoyable.
Based in both Malta and Gozo, Karin offers one-on-one sessions both in person and via Zoom or Skype. She conducts her sessions from her Sanctuary Clinic at L'Għarix Temple Retreat in Xaghra, Gozo.
Karin is an experienced hypnotherapist and is currently working with children from both Gozo and Malta and is keen to partner with organizations that engage in helping children.
In her work with both the parents and their children, she aims to help children find and implement their own inner resources as they face challenges and resolve any problems.
She also facilitates custom designed retreats for parents and their children where she works with them in a safe setting away from their normal environment. These retreats are designed and priced on request.
Is Hypnotherapy right for your Child?
Hypnosis can be highly effective for the handling of various children's problems. Unlike adults, children are mostly more receptive to hypnosis because they are much more flexible. They have intense imaginations which makes it much easier to access the unconscious and bring about the preferred transformation. As a result, hypnosis with children can bring about effective and rapid results.
With what Hypnosis can help?
Hypnosis for children can be a treatment solution for various problems, issues and disorders. Common ones include learning problems, academic enactment, anxiety, bedwetting, self-esteem issues, schoolwork struggles, thumb sucking, and fear of the dark.
Also, handling a traumatic event such as the death of parent or dealing with parents who are divorcing are challenges which can be helped with hypnosis. Children who struggle with recurrent nightmares may get assistance from hypnosis also. Hypnosis can also help children feel less nervous when facing a therapeutic procedure such as surgery. Children can gain substantial improvement in their self-confidence and ability to be successful with the help of hypnosis.
Hypnosis can help them learn healthy and empowering coping skills. It can help boost and release their creativity. With the help of effective Hypnotherapy, a child can really blossom and become much more successful and happier.
Hypnosis is effective in many challenges children face. An example is Hypnosis for bedwetting which has proved to be effective with many children. Children who wet the bed frequently struggle with emotional state of shame and embarrassment, and feel a major lack of control. They often feel helpless and their self-confidence can suffer significantly if the problem is not addressed and resolved as quickly as possible. Hypnosis accesses the subconscious mind and works swiftly to bring the required changes the child requires.
Children are perfectly receptive to hypnosis. It can be a very constructive and empowering practice for them.
CHILD HYPNOTHERAPY SESSION
Session Cost
The cost (€100 for an individual online 1 hour session or €150 for 90 minutes and €200 for 2 hours)
Start your healing journey today! To book your online (Skype, WhatsApp or Facetime) or in-person session for your self or for your child please contact Karin.
CHILD HYPNOTHERAPY SESSION
Session Bookings
This private, one-on-one session can be booked for any dates that suit your schedule (subject to availability). Contact Karin to enquire about booking a Child Hypnotherapy session in Gozo, Malta.